Dazzling Killmen: Face of Collapse - Special Edition 2LP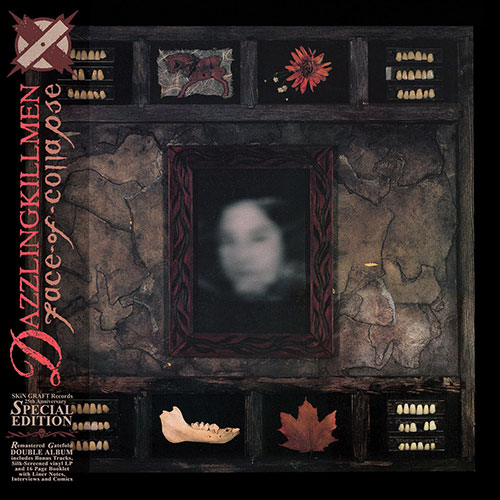 Was Dazzling Killmen a hardcore band? A metal band?
The world's gnarliest progressive-rock quartet?

"Yes" is the easy answer, but only because it's easy to rewind through two decades of genre fragmentation to hear Dazzling Killmen's influence on any number of "math-metal," "prog-core" and similarly classified bands. At the time, however, this St. Louis quartet occupied a genre of one. When Skin Graft released the Killmen's 1994 sophomore album, "Face of Collapse", that genre had its touchstone."
- Excerpt from Aaron Burgess' liner notes

Nick Sakes, Darin Gray and Blake Fleming formed Dazzling Killmen just outside of St. Louis, Missouri in 1990. The following year Skin Graft Records made its debut with a 7" single and comic book set from the band. Shortly afterward, Tim Garrigan joined the group, and the quartet began writing and refining material for what would become the label's first, and the band's second and final full-length, "Face of Collapse".

"As the songs progress, Dazzling Killmen bends the music just short of the breaking point, creating a frenzy that is always on the verge. They're not linear melodies that arrive predictably in their neat little spaces. Rather there is a center to each song and in this space the band attempts to reach it from different directions. A phrase appears for a moment then vanishes and orbits around the next phrase, hovering and waiting for it's next approach. Sometimes this center is the magnet that holds the whole shebang together. At other times the center cannot hold and the space collapses. It's during these moments that Dazzling Killmen floor me."
- Randall Roberts, LA Times (from the band's original presskit)

Loud Life at Alternative Press magazine declared it the top album of the 90's based on the following criteria: 1) Avoidance of formula or cliché. 2) Dexterity of rhythm section, 3) Quality of album's production values, 4) Lack of predictable lyrical subjects - Satan, Straightedge, Viking folklore, etc. "Sounds like Dave Bruebeck's Time Out played through Carcass' PA system." "Face Of Collapse" was a key influence on Dillinger Escape Plan: "Most of the great progressive underground bands of the '90s would not exist if it weren't for them." - Ben Weinman

Spin Magazine called Blake Fleming one of the 100 Greatest Drummers of Alternative Music; while Fact Magazine named the album one of the Best Post-Metal Records Ever. Guitarist / vocalist Nick Sakes went on to form Colossamite (with Ed and John of Deerhoof) and now performs in Xaddax. Blake founded Laddio Boloko and then The Mars Volta; while Tim Garrigan and Darin Gray formed You Fantastic! Darin is renowned for his work with Jim O'Rourke, including their bands Brise-Glace and Yona-Kit. Currently Darin performs with William Tyler and recently appeared on The Tonight Show in the band Tweedy, alongside Jeff of Wilco. Tim has started a new band, Skryptor, with David McClelland of Craw.
Brand new restoration from the original analog tapes by Blake Fleming and Jason McEntire of SawHorse Studios. Recorded and engineered by Steve Albini.

Second LP includes bonus tracks on side three: "Medicine Me", "Poptones" (Public Image Ltd. cover) and "My Lacerations" (alternate version). Collects every studio track recorded by the quartet version of the band.

Side four features new artwork from cover artist Paul Nitsche silk-screened directly onto the vinyl.

Large 16-page book, measuring 12" x 12", with liner notes from Aaron Burgess (former editorial director of Alternative Press), a new oral history of the album from Hank Shteamer (senior music editor, Rolling Stone) and artwork and comics from Mark Buckheit, Mark Fischer, Paul Nitsche, Miles Rutlin and Rob Syers.

Full color gatefold sleeve includes removable obi with color mini-poster printed on the reverse side. Entire contents come packaged in a crystal-clear resealable overbag.

Digital Download of "Face Of Collapse": Special Edition

Digital PDF Book including liner notes, oral history of the album and artwork and comics.