Dazzling Killmen: Face of Collapse 2LP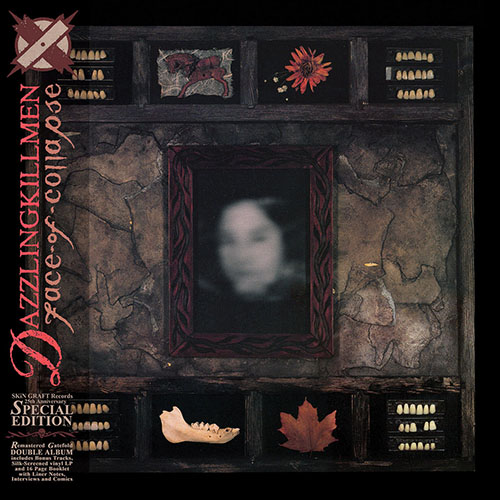 Brand new restoration from the original analog tapes by Blake Fleming and Jason McEntire of SawHorse Studios. Recorded and engineered by Steve Albini.
Second LP includes bonus tracks on Side Three: "Medicine Me", "Poptones" (Public Image Ltd. cover) and "My Lacerations" (alternate version). Collects every studio track recorded by the quartet version of the band.
Side Four features new artwork from cover artist Paul Nitsche silk-screened directly onto the vinyl.
Large 16-page book, measuring 12" x 12", with liner notes from Aaron Burgess (former editorial director of Alternative Press), a new oral history of the album from Hank Shteamer and artwork and comics from Mark Buckheit, Mark Fischer, Paul Nitsche, Miles Rutlin and Rob Syers.
Full color gatefold sleeve includes removable obi with color mini-poster printed on the reverse side. Entire contents come packaged in a crystal-clear resealable overbag.