Shellac: The End of Radio 2LP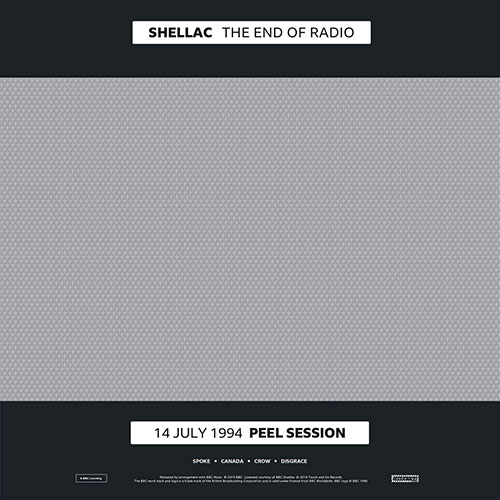 The 1994 session was recorded at BBC Maida Vale Studio 3 and originally aired on John Peel's BBC Radio One show in July of 1994. The four songs were recorded to 24-track and then mixed to stereo on the same day. While a studio version of "Crow" was released in October of 1994 on the band's debut album At Action Park, studio versions of "Canada", "Disgrace", and "Spoke" would not appear on any Shellac albums until much later (1998's Terraform and 2007's Excellent Italian Greyhound) - making the 1994 Peel Session recordings the only official recordings of these songs for several years thereafter.
The 2004 Peel session is a "Live From Maida Vale" session recorded live to stereo in front of a small audience at BBC Maida Vale Studio 4. It originally aired in December of that same year. As with the 1994 session, this recording includes songs that were previously unreleased and would not appear as album versions until years later. (Album versions of "The End of Radio", "Steady As She Goes", and "Paco" were released in 2007 on Excellent Italian Greyhound.)
Black vinyl in grey/black slipcase with two printed inner sleeves and CD version of the album.