Slogun: The Pleasures of Death 2LP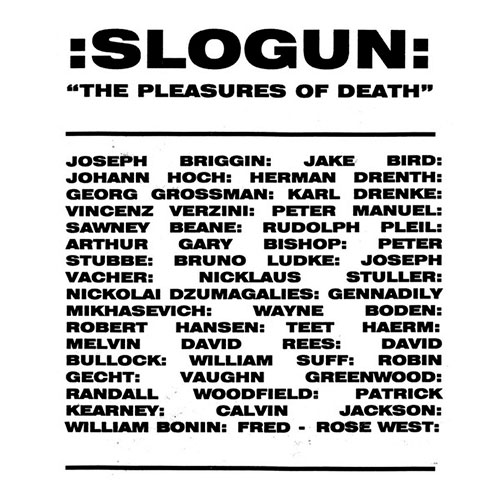 From the austere and frightening cover with the name of forgotten killers to the monolithic washes of analog synthesized grit and dust cloud vocals of the id, this legendary album first released as a limited cassette of 100 on the Cult Labyrinth Recordings from NYC (one of the all time great nyc cassette imprints) and then famously reissued to wide distribution via Cold Meat Industry sublabel Death Factory, 'The Pleasures of Death' came to prominence in the minds of the same era of Release Entertainment and Descent Magazine and Alchemy Records and Bloodlust!. Never has there been such an in-depth, caustic, intelligent and evil exploration of true crime violence. Slogun has managed to take familiar stories, untangle them and create deep profiles that leave the listener with unsettling conclusions that do not provide the answers we are commonly forced to accept. Set against the decline of America, the abstraction of the victim landscape is shattered with the brutal and disturbing lyrics faithfully reprinted. Wide spine sleeve, large format booklet and poster are are taken from the original cassette version and restored on the tombstone-esque format of vinyl. Truly a classic of NYC radical art and true crime electronics. F.T.W.!
Black (200 copies) or white (100 copies) vinyl in black/white sleeve.