Tropical Fuck Storm: Braindrops LP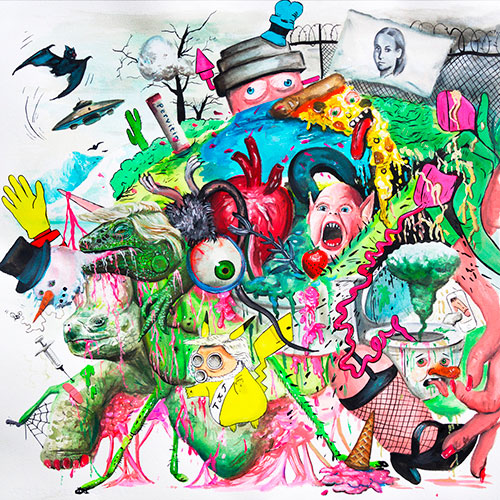 I've invented fake news as a genre of music," Gareth Liddiard observes with a laugh. He's talking about "Maria 63", the closing track on Tropical Fuck Storm's sophomore LP Braindrops. The song takes aim at the once-marginalized alt-right conspiracy theories that now seem to be a driving force behind the rise of fascism in global politics. "It may be the most stupid song ever written," Liddiard jokes. He's wrong, "Maria 63" is emblematic of Tropical Fuck Storm's keen ability to mine the extreme edge of pop culture's periphery for potent musical and conceptual spice.
Tropical Fuck Storm were formed around 2017 in the city of Melbourne, Victoria along Australia's south-eastern coast. The band released their debut long-player A Laughing Death in Meatspace on Joyful Noise Recordings in 2018. Each of the band's four members bring considerable experience to the group. Liddiard and Fiona Kitschin were part of the long-running and critically-acclaimed act The Drones, while Erica Dunn and Lauren Hammel have performed in a variety of well-received projects. Perhaps it's that wealth of rock and roll experience that allows Tropical Fuck Storm to so expertly deconstruct and distort the genre's norms.
"Everything we do, we try to do it in a weird way. The whole album is full of weird beats, and just weird shit everywhere," Liddiard explains. He cites Doc at the Radar Station-era Captain Beefheart as a key sonic touchstone, and Braindrops certainly shares the Captain's penchant for pounding abstract grooves. Tropical Fuck Storm have achieved a uniquely off-kilter sound on Braindrops. Liddiard partly credits this to the group's use of unconventional equipment, "We use lots of techno gear to make rock and roll because rock and roll gear is boring, and all sounds like Led Zeppelin." Liddiard's own description of Tropical Fuck Storm's sound is nearly as interesting and evocative as the music itself. He describes the LP's title track as "Fela Kuti in a car crash," and talks of creating a sonic atmosphere that "sounds like chloroform smells" for "Maria 62". A recurring theme on Braindrops concerns the various ways the human brain can be manipulated and controlled for exploitative gain. The bracing "The Planet of Straw Men" is a study of human behavior inside the social media comments section, a place where otherwise reasonable people are seen gleefully engaging in psychotic chest-thumping rhetoric.
Listening to Braindrops is a jarring and exhilarating experience, full of pulsating grooves, dissonant experimentation, and unsettling dystopian plot-lines. Braindrops is an unrelenting work, from an unrelenting musical ensemble. "Tropical Fuck Storm is a full on thing," Liddiard offers. "Everything we do, we do it to death.
Neon magenta vinyl in full colour sleeve with printed inner sleeve.