Den: Iron Desert LP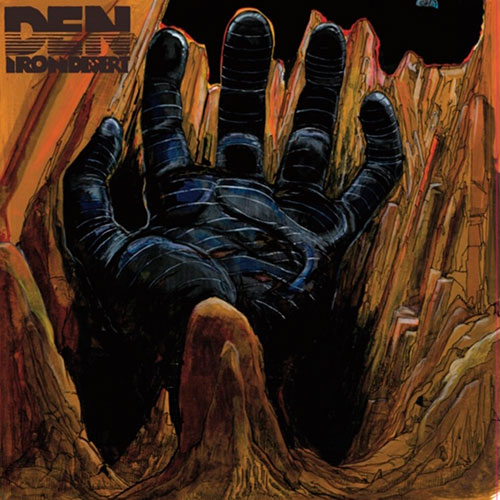 DEN
was forged in 2010 by three low-frequency worshipping cavemen: Ian Piirtola, Ray Keenan, and Adam Harris. Never confined to a singular sound,
DEN
operates somewhere between noise rock and metal with occasional progressive elements and electronic fuckery, often being compared to the likes of
Melvins
,
Lightning Bolt
, and
Man Is The Bastard
.
Described as "waves of sonic aggression in the form of space age electronic sounds doing battle with ferocious noise rock bass and drums," the band's first recorded output, "Bronze Fog", arrived in 2011. The following year, DEN released "Electric Eyes", a three-song seven inch that moved from psyche-sludge to krautrock to droning doom. Wrote Yellowgreenred.com of the release, "There's a blurry image of an enraged caveman bashing a robot's tin cranium on the front of this DEN single, and it's not just a pleasant image – it's DEN's musical aesthetic."
2013 marked a new era for DEN as Keenan relocated to Austin. After a brief stint with Corey Mahaney playing bass, Dylan Piskula entered the fold to hold down the duties of the boom broom and DEN found its legs again. Blossom Juice, a mostly improvised outing of harsh scrape and space grime was released the following year. The band's first proper full-length, "Exhausted", was released shortly thereafter on BLVD Records. DEN has since played countless shows and regional tours, sharing stages with Buildings, Bummer, Gay Witch Abortion, Multicult, Oozing Wound, The Obsessed, Dead Meadow, and so many others, all the while writing what eventually has become the second long-player, "Iron Desert", the first recordings with Piskula and the heaviest yet most distilled slab of DEN to date.
Blue or orange splatter vinyl in full colour sleeve with insert and digital download coupon.