Work Party: My Best Days Are Behind Me LP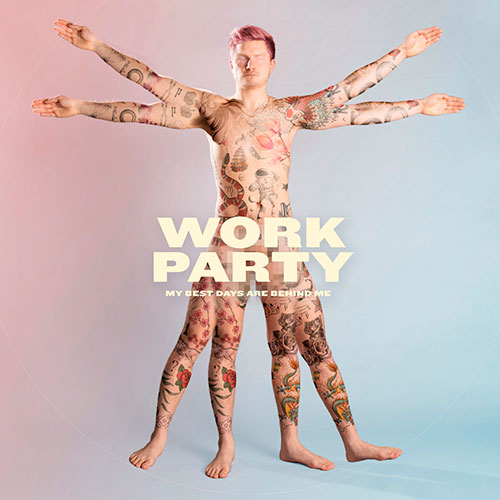 Created out of the demise of War Brides, Chicago's Work Party pulls no punches straight out of the gate with its debut, "My Best Days Are Behind Me" (Triple Eye Industries). There doesn't seem to be any feeling out process as far as the album goes, it's straight to business, and that's the group's business model that seems to take the approach of kicking ass and chewing bubblegum. Yeah, you guessed it, Work Party is all out of bubblegum. That in of itself may be a good thing as well considering the band doesn't water anything down with forced cheery melodies, or happy-go-lucky rhythms. Instead, the band takes on a no-nonsense 90s approach to music, incorporating thunderous rhythms, an F you attitude, loud abrasive guitars, and a maniacal vocal delivery.
Made up of guitarist Grant Craig, vocalist Tristan Widloe, his brother Justin Widloe on bass, and drummer Brandon Syph, Work Party's unbridled delivery is as fiery as those that came before it. Of course, there's a slew of influences anyone could cite but where's the fun in that. This is all about discovery right now and Work Party hits all the right spots. From the opening "Drunk Conference Call," the rhythm is relentless and uncompromising as the band moves in unison throughout. After about 20 listens you may discover those subliminal handclaps that somehow make their way into the mix. Hell yes! Tristan Widloe sounds like a madman possessed. "Average White Man," may sound like something you've heard before but it's refreshing as the band pummels through, destroying everything in its path, all the while as the world around them crumbles. But it's the band's "Real Charmer," with aggressive harmonies, unrelenting pummeling, and Grant Craig's guitar that allow for memorability. Musically, the band is noisily riveting, relentlessly turning up the volume to eleven on their collective instruments, seeing where the music goes.
It's safe to say there's nothing safe about "My Best Days Are BehindMe", refreshingly blending 90s noise rock with 2000s blissful abandon, and pissing all over it with a 2021 middle finger in the air. The band is all in when it comes to creating its music, as well it should be but what makes this one stand out from the rest, well, Work Party did this for Work Party, not for you, me, or anyone else listening.
Pink vinyl in full colour sleeve with insert. Limited edition of 100 copies.
Disclaimer: All sleeves have minor seam splits and/or corner bumps from rough shipping. All copies are sold as is, no returns accepted. If this bothers you, don't buy it.